Pioneering towards a carbon-neutral property development – Pudasjärvi log houses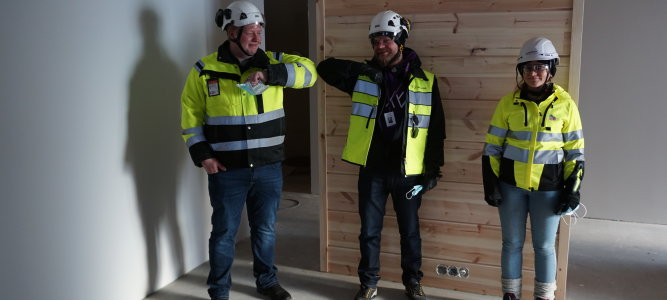 Pudasjärvi, located in Northern Ostrobothnia, has stated in its strategy that it is Finland's log capital and a pioneer in modern log construction. The city is, indeed, known for its reward-winning log school campus, a studying environment for over 700 schoolkids. Now the city center is getting new four-floor log apartment buildings by Hirsihovi. The constructor is Pudasjärven Vuokratalot, and Welado is their construction management consultant.
The Hirsihovi project is seeking cost-effectiveness by building so-called hybrid log apartment buildings where the ground floors contain business premises and top floors have rental apartments.
The two houses that are being built in spring 2021 will include 53 apartments with a total surface area of almost 2,300 square meters. The business premises will cover about 340 square meters. The houses will be ready for new tenants and entrepreneurs in autumn 2021.
Think of CO2 goals now, not in 2035
Building with wood is of high importance to Finland's goals for CO2 emissions, because our national goal is to achieve a 45-% wood construction rate. Log building is one way to achieve ecological construction that produces minimal amounts of CO2 emissions.
According to a study by VTT, the carbon footprint of a wooden apartment building is about 20% smaller compared to an identical house built of concrete.
Hybrid log houses – who knows how to build them?
The construction site lies in the middle of the city, at a traffic intersection, which necessitates a wide array of expertise for the project portfolio to ensure undisrupted flow of traffic and safe construction in a densely populated area.
The buyer needed development consultants by their side who not only had an understanding of special features of such construction but also could take over project management from planning to execution as well as site supervision.
"In Pudasjärvi's strategy, log construction is the key towards carbon neutrality. Hirsihovi is the first apartment building in Finland built by hybrid log construction. We were looking for a development consultant who had the skills and ability to solve any special issues related to log construction. We are right on schedule and very happy with the implementation. Thanks to Welado's experts,' says Jouko Väänänen, CEO, Pudasjärven Vuokratalot Oy.
As independent construction management consultant, Welado has supported the success of the project from the beginning till the end
Welado's artisans of modern construction have participated in this unique project since it started. Their expertise ensures that Hirsihovi will be completed on schedule, in October 2021.
"The hybrid log house at Pudasjärvi is a unique project that is demanding and pioneering to implement. Ara funding sets tight requirements for costs, which makes staying in schedule and on the budget critical," tells Welado's Iivari Tikkanen, who works for the project as project manager in building services technology.
The project has included guidance for project planning, preparing procurements, project planning and execution, supervision of pieceworks, and advising the customer.
Do you need a professional developer consultant for your construction project?
Contact us!