We are reinforcing our energy team with wind power expertise – customers have access to even more wide-ranging renewable energy services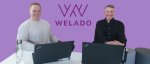 Wide-ranging construction contracting services for all stages of a wind farm's life cycle
In the renewable energy production sector, project development and construction are blowing up, and there are no signs of slowdown on the horizon. Experts are in high demand. In the future we will be able to provide an even wider range of services in the wind power sector at all stages of a wind farm's life cycle as our energy team has received reinforcements in the form of seasoned wind power specialists.
Welcome to Welado's team, Henri Vanha and Sami Kosonen! Both gentlemen have experience in the operations of the wind power sector in both project and production stages. Henri complements the team with expertise in electric stations and energy transfer systems while Sami's strengths are in safety and supervision. Both Henri and Sami also have very robust backgrounds in the technical management and related operations of stations in operation.
Our wind power specialists Henri Vanha, Sami Kosonen and Henri Hanhirova will be present at the Energy Week event in Vaasa 20.–24.3.2023. Come have a chat!
Safety plays a crucial role in modern wind power projects
"Building a wind farm involves a lot of special procedures and risk factors. Because of seasonal changes, conditions can be challenging at times, and one simply cannot afford to question safety when dealing with station components weighing tens of tons that are being lifted to heights of over 150 metres. In wind power projects it is especially important to consider the special conditions affecting safety, ensure that all plans and risk surveys are comprehensive enough and foster smooth cooperation within the often multilingual team so that the project can be completed safely and according to the set goals," Sami says.
A high-quality energy transfer system is an investment into the future
"When it comes to the production and income recognition of a wind farm, the transfer system that connects the production units to the national network is critical. It is this system that, for its part, enables the transference of energy to consumption targets. When the energy transfer system and the project are well designed, it is an investment into the wind farm company's future, as failures in this system can cause long pauses in production, and in the worst-case scenario they can affect the entire wind farm. On today's electricity market, even a short interruption in production can mean significant losses in a very short time. With our services the customer can achieve added value in terms of both quality and resource allocation, the impacts of which will be felt for a long time," says Henri.
When the target is in operation, it creates profit and covers the investment
"As an investment, the acquisition value of a wind farm can rise to the hundreds of millions, depending on the site. When we are dealing with a target with a lifespan defined in decades, the significance of high-quality technical and commercial management in the use-phase becomes emphasised. The purpose of technical and commercial management is to optimise factors affecting production, ensure that the asset retains its value, handle stakeholder engagement and secure a sustainable future in terms of safety and the environment," say Henri and Sami.
Functional, high-quality service delivery – always
"Welado's values and way of doing things are in line with ours. We want to deliver our customers first class quality in agreed upon service delivery packages. One aspect of quality is expertise. It allows us to see ahead and anticipate possible rocky patches that might hinder the project. Another crucial aspect is an active and fearless attitude to solving challenges. Clear processes and modes of operation support our work," say Sami and Henri to conclude.
Read more about our experiences in wind power contracting! Our blog contains articles on how we ensure success in a wind power project, how uniform quality is Welado's method of choice in the supervision of wind farm construction, and what kind of special expertise is required when wind power construction moves from land to sea. In the OX2 reference story our customer talks about how systematic documentation of quality factors and other matters affects the success of a wind power project.
Read an article Uniform quality in the supervision of wind farm construction is Welado's method of choice
Henri and Sami are happy to answer any additional questions you may have!
Henri Vanha, henri.vanha@welado.fi, +358 40 825 0339
Sami Kosonen, sami.kosonen@welado.fi, +358 40 621 4130