STHK chooses Welado and sells the majority of its stock to the Finnish construction management consultancy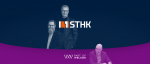 STHK, the leading railway signalling consultancy in Sweden, has chosen Welado, the market leader of infrastructure construction management in Finland, to be it's new home base. Combining the two companies' knowledge and business allows them to offer an even stronger expertise for their customers in Sweden, Finland and rest of Scandinavia in the railway industry, but also in road and energy sectors.
The expertise areas of Welado and STHK reinforce each other in business - the common values and common strategy will nurture culture and growth together.
"We studied several partnership options carefully before making the decision to come together with Welado. We have invested 6 months of work to create our common strategy, making sure that the company cultures, values and visions have a mutual base," explains CEO Magnus Lille of STHK.
The core expertise of STHK lies with the railway signalling lifecycle and ERTMS. By joining forces with Welado, STHK can expand it's expert service offering to construction management and supervision, benefiting the ERTMS roll out in Sweden especially. Also, the business service scope of STHK will expand to cover the needs of energy, road infrastructure, and industrial sectors as a result of the transaction.
"On the other hand, STHK brings important expertise and experience to the Finnish ERTMS scene, where we at Welado are already acting as one of the main consultants in the Digirail project. We feel that the match of the companies is a very tight fit and we are aiming for a strong, profitable, people centric, and international growth path together. At Welado we have done everything with people and wellbeing in center of our business, trusting that growth and success will come. STHK shares this core belief," tells Matti Tervonen, CEO of Welado.
The strength of the two companies coming together will especially benefit the future of railways not only in Finland and Sweden, but also the Baltics, other Scandinavian countries and Northern Europe. The market should expect strong organic growth to continue, meaning recruiting of both senior and junior experts who share the soft values of the companies', and an ambition to change the future of the built environment.
"The mutually reinforced business opportunities combined with Welado's people centric touch and strong growth convinced us, that Welado would be the right home for all STHK employees in the future. We will be keeping the STHK brand and build on that together in Sweden. We will focus on creating connections, sharing resources, excelling at everyday co-operation and the feeling of unity. We have truly built mutual trust and the future feels exciting yet safe together," continues John Adolfsson, chairman of the board of STHK.
The majority of STHK shares will be sold to Welado, while STHK employees will continue to hold 25 % of the shares. The company leadership and name will stay the same, and all customer projects will continue as until now.
For additional information, please contact:
Magnus Lille, CEO of STHK, tel +46 (0) 70 985 23 94, magnus.lille@sthk.se
Matti Tervonen, CEO of Welado, tel +358 (0) 40 749 3065, matti.tervonen@welado.fi
Welado is the market leader of infra construction management in Finland. Welado provides expertise in versatile specialist areas for railway, road, energy, real estate and industrial sector customers. They have 260 employees, of which 2 previously in Sweden, generating a turnover of 21M€ (2021). More information: welado.fi
STHK is Sweden's leading consultancy company within railway signaling system life-cycle services. The 33 experts have specialist competence in many areas including ERTMS, metro and light rail signaling, vehicles and maintenance. STHK supports a wide range of customers such as system suppliers, infrastructure and rolling stock owners, and operators. The company has a turnover of 46 M SEK. More information: sthk.se
Other links: https://digirata.fi/en/ Trafikverkets ERTMS-program.